Looking for PPC spy tools that help you beat out the competition? It may be time to channel your inner spy. Done correctly. PPC marketing can provide immense benefits.
While a powerful strategy, it can be difficult to get an edge with your paid ads if you don't know what other industry players are doing.
There are several benefits to doing PPC competitor research, the most important being that it'll save you a lot of time. By finding out what your competitors are doing you're able to see what's working and save yourself from having to figure that out on your own.
Keep reading for 9 competitor research tools that will pull back the curtains on what your top competitors are doing. Let the spy games begin.
1. SpyFu: Best PPC Spy Tools
SpyFu should be in your arsenal of tools, no doubt about it. With this, you can see competitor keyword groups and a lot more useful information that you can use to create a strong campaign.
Just like SEMrush there are plenty of things this PPC spy tool can help with. SEO, keyword research, and backlink building to name a few.
One cool SpyFu feature is Kombat. With this you're able to see the keyword overlap of you and your competitors. For example, if we took SalesForce and Zapier…
…we would discover that they're competing for 230 keywords. This data can be used to refocus SEO/PPC campaigns and get ahead for keywords that there is fierce competition for.
When it comes to PPC, you have complete access to what your competitors have been up to. All you need to do is enter their domain and within seconds a long list of keywords, how long they've been bidding on them, and how much has been spent will all be displayed.
I could keep going but you get the point – SpyFu is awesome and if you don't give it a shot, you'll be at a disadvantage.
Spyfu costs around $49 a month, a small price to pay in the long run.
2. Google Auction Insights
Some people think Google Auction Insights isn't that great, but it is a very easy way to see who you are competing with. Google has a lot of useful utilities that help to identify PPC trends and competitor activity, so never disregard them without checking them out first.
With just a few clicks, you can see competing websites, impression shares, and more. This PPC spy tool is a great place to start if you are new to the PPC game.
This is a great tool to gather competitor intel. SEMrush lets you see what competition is doing with YouTube ads, Google Search, Google Shopping, and Google Display Network.
You can check out which ad copies and keywords are popping. Even better – it's not just a great PPC spy tool but it's equipped with a fully loaded arsenal of marketing tools for SEO, SMM, and even content marketing.
Something unique about this platform that caught my eye is the learning games on this site, perfect for beginners who want to get a feel for online marketing.
I tried out their Keyword Kombat game that gets marketers thinking about how certain keywords compare. (I got 9 out of 10, who knew gifts for boyfriends is searched more than gifts for girlfriends?!?).
SEMrush gives a free 7-day trial. After that, there are plans ranging from about $99 to $400 a month.
This tool made its mark for its ability to estimate web traffic, it is also a great way to spy on your competition. SimilarWeb is the perfect PPC agency platform that provides you with a selection of sales and marketing tools, and it's free to some extent.
A quick look at Zapier's top 5 keywords…
After you enter a competitor's URL, the keyword tab will show you monthly search volumes and cost per click. It will also depict how much traffic was driven by each keyword and you'll have more of an insight into what their campaigns entail.
Whilst free, limitless access to the SimilarWeb tools requires a subscription. Custom plans are arrangeable by contacting their consulting team.
REMEMBER
If a competitor is spending a lot of money on an ad or the ad has been running for a long time, this is a good indication that it's doing well.
This tool comes with a large database. MixRank can show you info on landing pages and campaigns other businesses are running.
Although MixRank is one of the more complex PPC spy tools, it's very powerful if you know how to use it effectively.
With the information you get from their database, you can gauge your own conversion rates against others.
Looking for a source of more data than you'll ever need? WhatRunsWhere has one of the most comprehensive portals of creatives and display network traffic which can aide the PPC competitor research phase.

A quick search will discover which of your competitor's campaigns are succeeding and are worth recreating as your own, how long their display ads have been running, and what's been trending recently.
WhatRunsWhere really does have the most extensive database out there and it'll cost you from $299 a month.
iSpionage rounds out the big top three (alongside SEOrush and Spyfu) as popular options for PPC spying. Designed to increase lead generation and improve your CRO approach, iSpionage brings together some of the best PPC spy tools.
This includes SEO/SEM monitoring and access to competitor's ad spend across different ad networks. Additionally, a targeted leads list that helps businesses find the leads which are most relevant to their industry is available.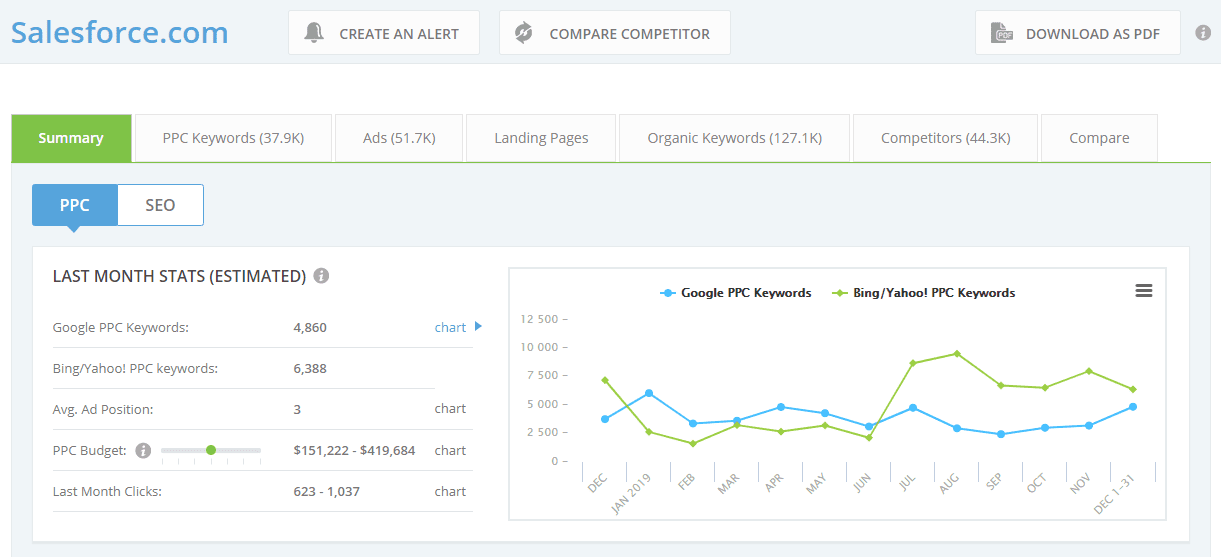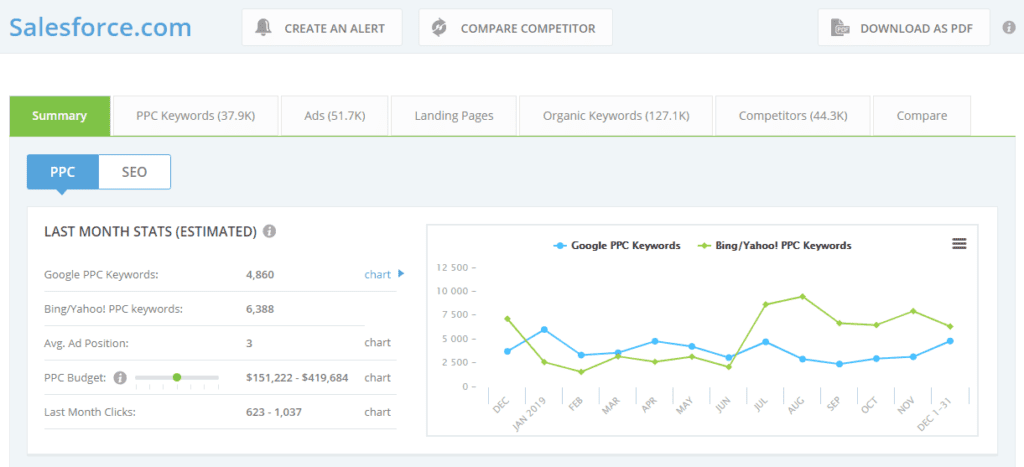 This tool is great because it's not just about Google Ads, but Yahoo and Bing Ads too. So if you aren't limiting your PPC competitor research to Google, this is a winning platform.
The pricing starts at $59 per month which is fair, and the most expensive plan is $299 per month.
Adbeat is another solid option to spy on info outside of the Google Display Network. You can see competitors' spending levels, the ad networks they use, and their landing pages with this PPC research tool.
The advertiser's profile section of the site offers an incredible amount of detail. Once again, if we use SalesForce in an example: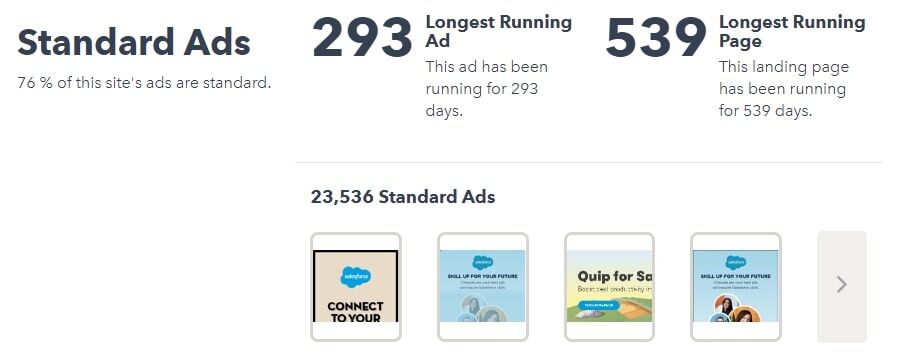 A particularly useful feature is Adbeat's reporting system. Instead of jumping from tab to tab in your browser, these custom reports let you compile all of the data you need in one convenient document.
Adbeat have a unique crawling system that crawls over 3 million pages and 8 million ads each day, ensuring the data
A subscription will set you back $249 per month, so this is obviously one of the pricier PPC tools out there.
And our final tool to spy on competitor info is KeywordSpy. Even though it isn't well known, it can be very powerful. The website seems outdated but don't let this dissuade you from checking it out, there's even a free trial to get your foot in the door.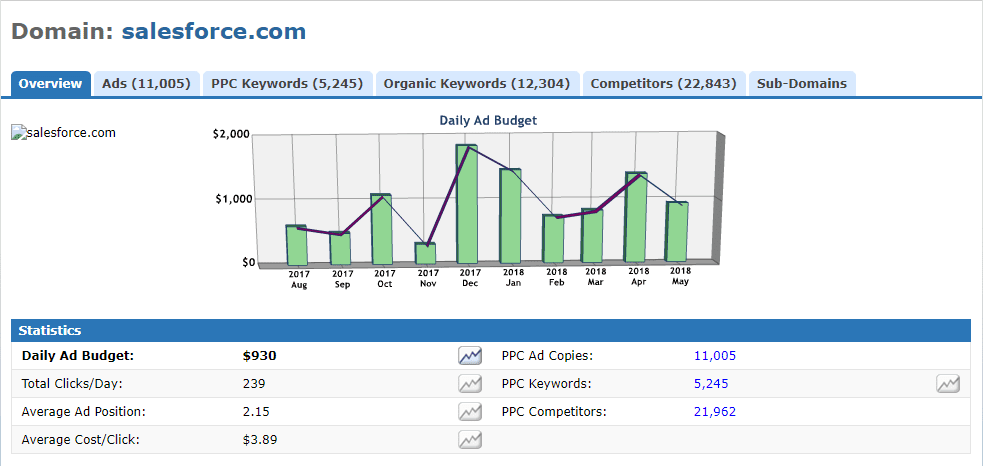 Research can be done by searching a specific competitor's domain, a keyword, or an ad copy. The KeywordSpy database has daily updates and once you sign up you're able to monitor how a keyword is performing in real-time.
Competitor data is readily available. PPC keywords, organic rankings, daily ad spend and clicks, and if you want to go even further, their competitors too. Only the truly brave individuals dig into their competitor's competitor's data!
Beat Your Competition Every Time
As shown, there are TONS of options for getting the lowdown on your competition by using PPC spy tools.
Looking for more information to use with your digital marketing? Be sure to check out (and avoid) these most common mistakes in Google Ads.
On the other hand, if you want to make sure that your competitor research is done properly and use it to grow your own business, let the professionals take care of it. Book a free consultation with KonvertLab using the button below – you won't regret it!