If you're in the B2B space then you probably have a list of companies who you want to work with, or maybe you just have a few dream clients in mind.
With the help of LinkedIn Ads, you can use company list targeting to reach those prospects. In other words, you have the chance to turn those dream clients into clients. This blog post will explain everything that you need to know to get your ads in front of those companies.
How to Use Company List Targeting
1. Uploading the Audience
LinkedIn likes to change things up frequently, but the steps we're about to explain should be future-proof. Start by going to the LinkedIn Ads Campaign Manager, click on Account Assets, and select Matched Audiences.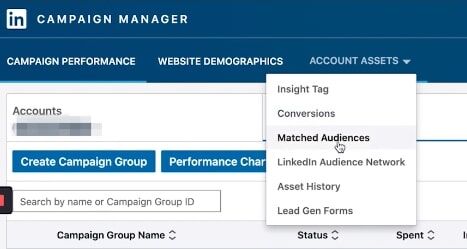 Once you're in Matched Audiences you can see all the audiences you've created in the past, and this is where you'll be creating the audience you'll be using company list targeting on.
At the top-right of the page click Create audience and below the Upload a list header, click on Company/Contact.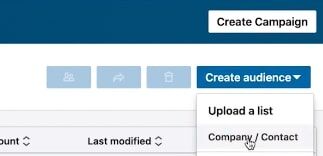 On the next page you'll be shown a brief description of "best practices". This list includes advice for a company list including that you upload at least 1,000 companies – you can upload up to 300,000 companies, but hitting that 1,000 threshold isn't necessary if you're going for your top 100 prospects.
If you keep reading, you'll also see that some detail about each company is required. Typically what we do is have the company name and company website – this is enough for what we're doing.
That being said, if you wanted to increase the match rate, adding more information about the companies would be beneficial.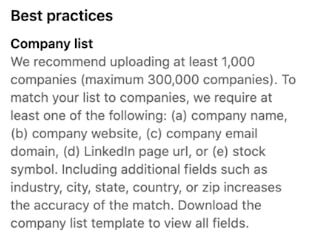 The next thing you need to do is give your audience a name and then upload your company list. For first-time users, it's a good idea to click on Download the company list template and populate that.
This template includes all the columns of information that you can enter. The more information you provide about these companies, the better the match rate will be. But, as we said before, all you really need is the company name and website.
Once you've prepared the list, go ahead and upload it to LinkedIn like so. Note that it'll take LinkedIn a day or so to process your company list before you can actually target it.

2. Targeting the Audience
With the uploading out of the way, we can go ahead and create a new campaign to target the new audience. Head back to the LinkedIn Ads Campaign Manager and click Create campaign to get started.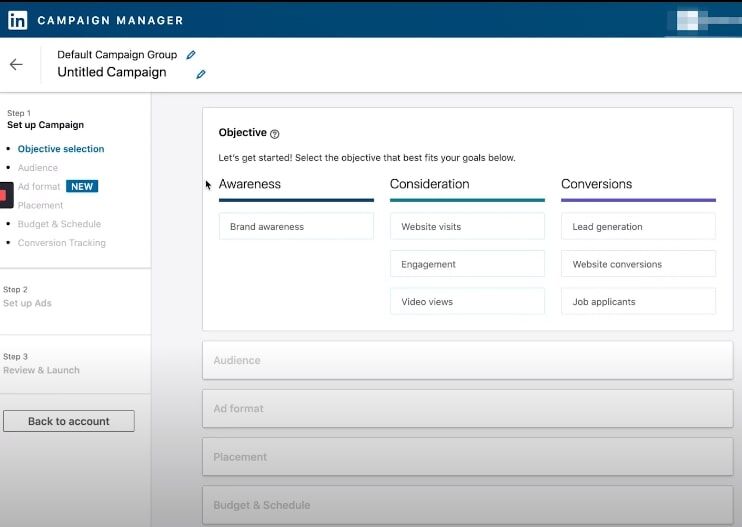 Next, go ahead and choose your goal – for this example, we're going to use Website visits. Scroll down and below Who is your target audience?, click Audiences and then List upload. From here, you'll be able to choose the company list that you uploaded to LinkedIn Ads.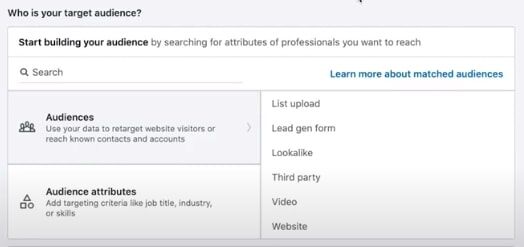 Once the audience is selected, a performance forecast will be shown. This will show your audience size, the expected 30-day spend, how many impressions you'll get in 30-days, the ad's CTR (click-through-rate), and the expected 30-day clicks.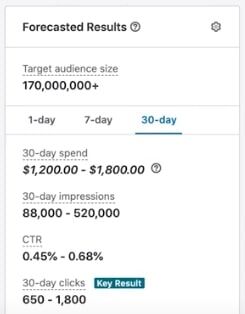 If you notice that your audience size is too small for effective company list targeting, add more companies to your list and upload it again.
On the other hand, if your audience is too big, cut down the list a bit by removing large companies.
Keep in mind that what you see here is a forecast, this isn't a guarantee of the results you'll get. If you get everything right, your CTR could be much higher and you might get more clicks than expected.
That's all there is to it. Make your list, upload it, and run a campaign targeting an audience of your top prospects.
Tips for Company List Targeting
Now you know what needs to be done to set up a list and put a company list targeting strategy in place. To give you a leg up over the competition, here are some bonus tips.
1. Use Online Tools to Enrich Company List Data
We've said it a few times, but you can get by with just the company name and website. That being said, if you want to maximize your reach then using online tools can help enrich your list data. In particular, there are tools which will fetch companies' social media profiles and populate your template with that data.
You can then upload this enriched company list and you'll have a better match rate as a result.
2. Layer Targeting to Narrow Down Prospects
Something that's really important to note about company list targeting is that your ads will be shown to everyone in these companies. This includes the CEO, the CFO, the HR manager, and even the janitor.
We can combat this (so that only specific people see our ads) by layering the targeting deeper, whether it's by job title or seniority. This will emphasize your focus on specific individuals – most likely the decision makers – and stop your ads from appearing in front of irrelevant people.
Keep in mind that by doing this, your CPMs and CPCs are going to increase too. The only way to mitigate this cost increase is by doing everything you can to make your ads perfect. In other words, create appealing ads and don't fall into the trap of common LinkedIn mistakes.
By adopting a strategy that involves company list targeting, dream clients can become a reality. As you can tell from the steps we took above, it's not hard to put this in place either.
However, if LinkedIn Ads is new territory for you, this might be something you struggle with. If you don't want to take this challenge on board by yourself, give KonvertLab a call and we'll help you through it! We specialize in Facebook Ads, Google Ads, and best of all, LinkedIn Ads.
All you have to do is book a call with us by clicking the button below. During this call we can discuss your business's needs and what our team can do to meet those needs. Why wait any longer? Let's start growing your business together!