Focusing your targeting strategy on Facebook Ads interests is not something to dismiss without a second thought. For most people, this is an incredibly effective targeting method that will deliver impressive results.
Familiarizing yourself with interest-based targeting is the first step and once we've gone over the basics, we're going to show you some of the advanced strategies (such as layering) that we use to make our clients' campaigns perform well.
What a lot of beginners don't realize is that it doesn't matter how great your ads are if you aren't targeting the right people. Having the perfect audience means that things like a Facebook Lookalike Audience will be more effective but before you can even think about that, let's first go over Facebook interests.
Before You Do Anything Else...
Get to work creating a buyer persona if you don't already have one. A buyer persona is an outline of who exactly your perfect customer is. This includes the age group they fall into, where they live, and in this case, their interests.
This helps you to craft an audience and target the people who are actually going to buy from you. If you start running a campaign before meticulously outlining your perfect customer, you risk wasting a lot of money. People who have little interest in your product will see your ads and almost certainly dismiss them.
If you've already ran ads in the past but didn't build a buyer persona, don't worry because that money hasn't been completely wasted. Using the data from your past campaigns, you can build an even more reliable buyer persona. If the data says ages 18-23 interact twice as much as every other age group, those are the people you want to target. Start by asking what…
are their demographics?
does their day-to-day look like?
kind of problems do they have that your product or solution can solve?
Answer these three questions and you'll have a solid starter buyer persona to work with.
Disclaimer: Facebook Ads Interests Targeting is Expensive
This is the big catch. Facebook Ads interest targeting can be incredibly effective when used properly, but it's also one of the more expensive targeting methods.
If you're looking for a segue into Facebook Lookalike Audiences then interests targeting is usually where you'd start off. Now, while you need to spend more for interests targeting, when you do start getting into lookalike audiences it'll be cheaper, not to mention you'll have a better time scaling Facebook Ads.
How to Set Up Facebook Interest-Based Targeting
When you've got a buyer persona at the ready, setting up a campaign with Facebook Ads interest targeting is really easy. Start by creating a new campaign up until you reach the Audience options.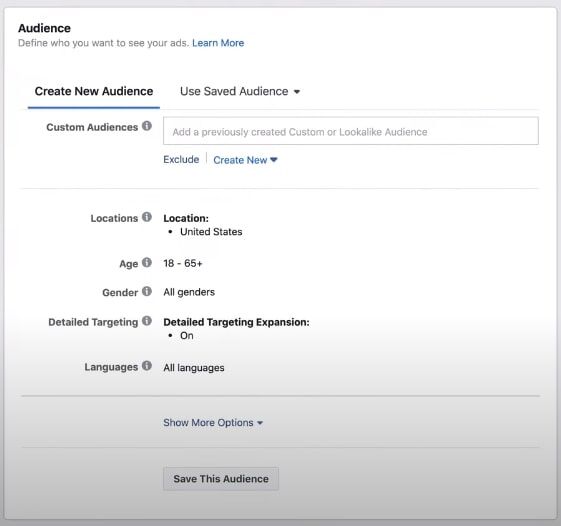 When you get to this point you can fill out the first few details using your buyer persona – locations, ages, and genders that you want to target. Then in the Detailed Targeting section, this is where you'll be entering the Facebook Ads interests.
There are two parts to this. First, there are the interests that you want to target – anyone who has all of the interests you have chosen will be targeted. Second, there are the interests that you want to exclude – anyone who likes any of these interests will be excluded from your audience, even if they have the above interests.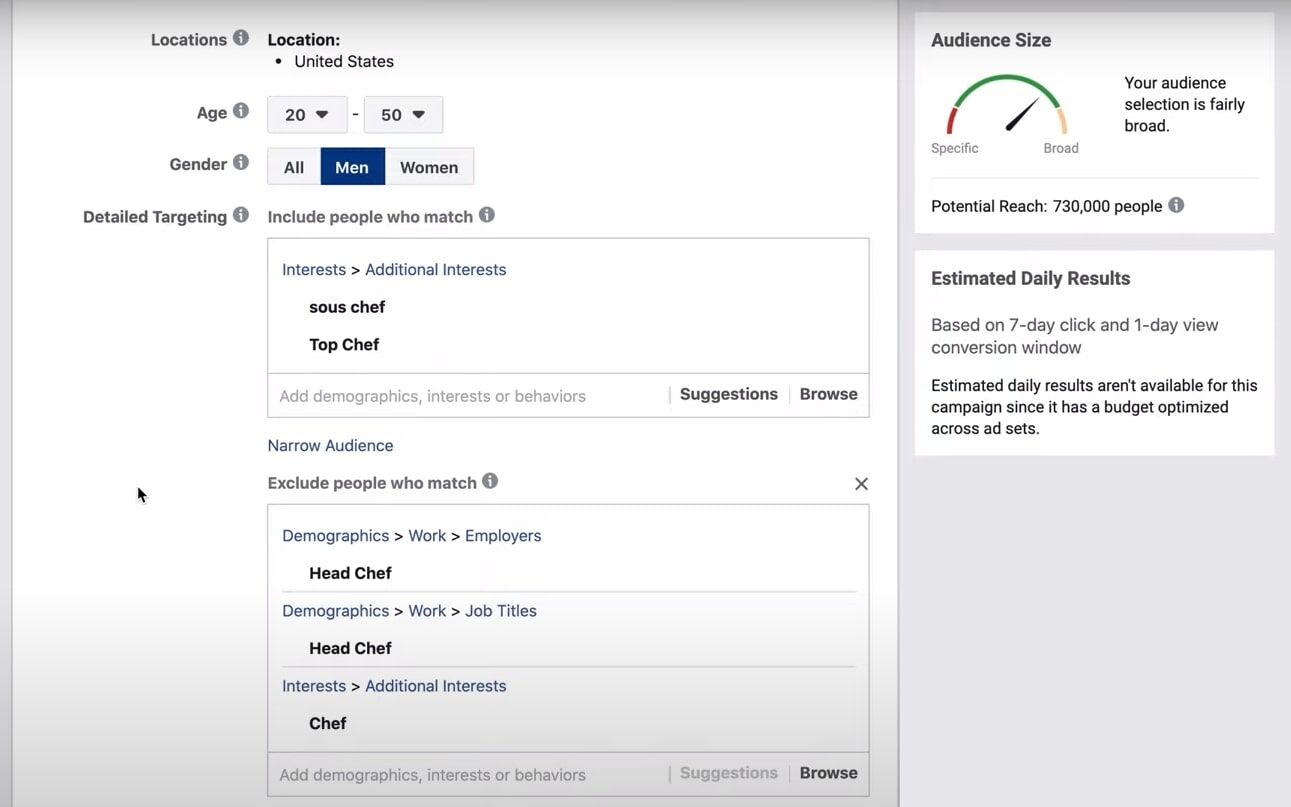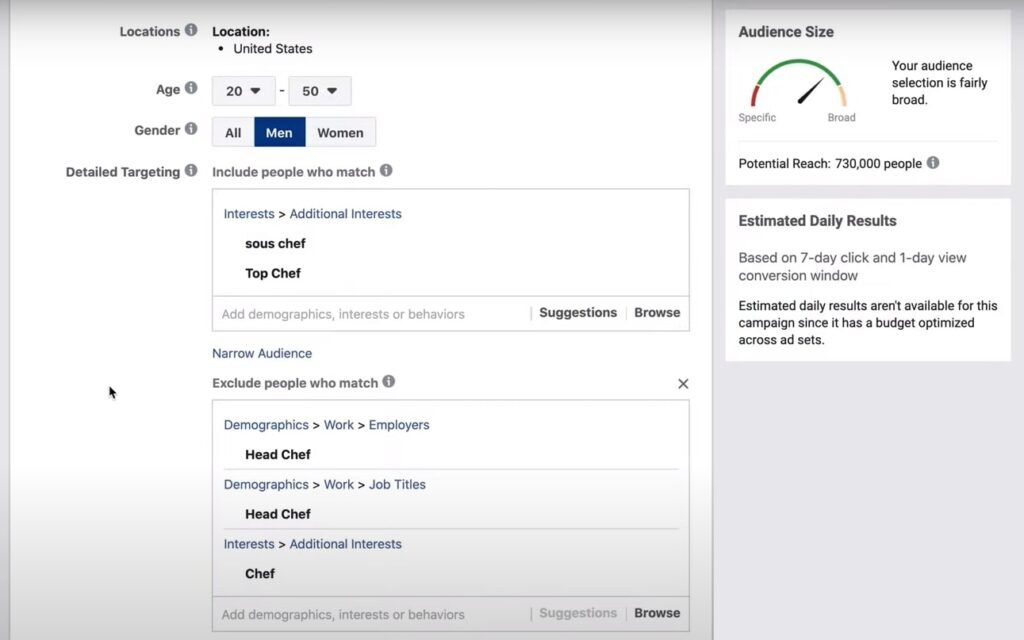 In this example, we're targeting users who are interested in becoming chefs. So, we opted to target the following:
20-50 year olds,
Both men and women
For our interest-based targeting, we targeted users who are interested in sous chef and top chef. Just as important are our exclusions. Anyone who is already a chef or a Head Chef (whether they're the employer or employee) will not be in our audience. The reason for these exclusions is that our perfect customer is someone who wants to be become a chef, so if they're already a chef we'd be wasting money by having them in our audience.
You can also see that our potential reach is 730,000 people. Ideally you want to start with an audience of around 1 million. If you fall too short or overshot the mark, you can add more interests or exclusions to get closer.
Finally, there's also a narrow targeting option. This allows you to refine your audience by adding conditions such as "must be a page admin". This can be really helpful depending on the buyer persona you've come up with.
Next Steps: Facebook Lookalike Audience
We won't dwell on this too much since our main focus is Facebook Ads interests targeting, and we've spoken about this a lot in the past. Once you've run interest-based targeting for a while you'll eventually have enough data where using Facebook Lookalike Audiences is the best step to take.
Check out our video on these audiences to learn how you can set them up and the best ways to use them.
Facebook Audience Insights
It's almost essential that you use Facebook Audience Insights. In this case, you can use it to get a better idea of what interests to target. Start by entering one of the interests you planned on targeting – in this case, we searched for Sous Chef.
As you can see, this has returned us with some data to work with. Above you can see that 61% of users interested in the sous chef topic are women while just 39% are men. We can also see that the majority of these people are in the 35-44 age range.
When you check out this page for yourself, you can scroll down and see more details such as Relationship Status and Education Level. However, we want to focus on their interests so we need to go to the Page Likes tab.
In this tab, you can scroll down and see what pages your selected audience like the most. Below you can see that the most liked page in our audience is Sous Chef, and we're already targeting this so we'll need to refine our search a little.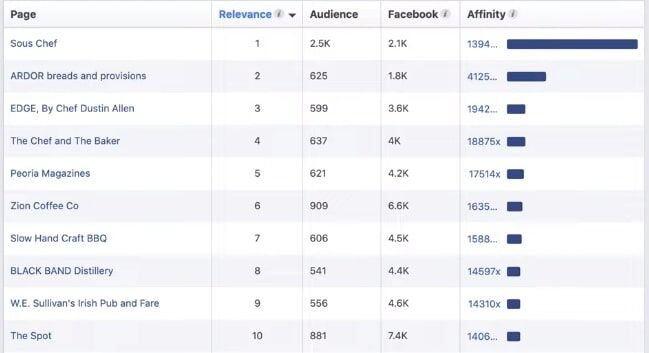 But you get the idea of how this works and hopefully how this can help you fine-tune your targeting. Keep tweaking the interests in Facebook Audience Insights and you'll eventually stumble upon some great targeting options.
Facebook Ads Interests by Professionals
That's everything you need to know about choosing Facebook Ads interests and how to target them accordingly. It's not the easiest, nor the cheapest, targeting option. That said, it's worth focusing on this at the beginning of your campaign as it'll benefit you in the long run.
The importance of getting your targeting correct can't be understated. If you make a mistake when you're doing audience research or don't set up your targeting the right way, you could potentially waste thousands of dollars. Why take the risk?
Instead, talk to our team at KonvertLab and find out how we can help you run your Facebook Ads campaign. Our experience in a wide range of industries alone makes us best suited for the job, so start by booking a strategy call below and we can discuss the future of your business.